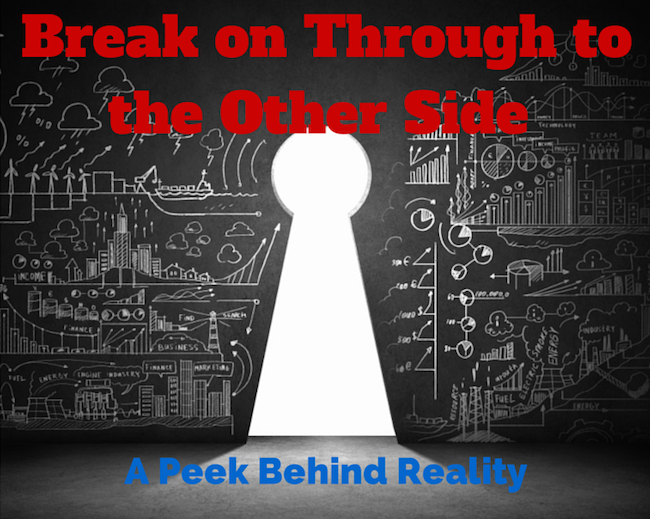 027 – Torah Podcast – Torah Portion of the Week – Ki Savo – Break on Through to the Other Side A Peek Behind Reality, A Powerful Parable about the Pockets that Jingled, A Great Story about Rav Dessler and Peace in Your Home – Thinking About Your Wife 24/7 –
The Torah Podcast Transcript
The Torah Podcast 027 – Break on Through to the Other Side – A Peek Behind Reality
Torah Portion of the Week – Ki Savo
The Torah portion begins with the mitzvah of Bikkurim, bringing the first fruits from the harvest. The verse says, "It shall be when you come into the land and take possession of it and settle in it that you should take of the first of all the produce of the earth, which you shall bring from your land that the Lord your God has given you. And you shall place it in a basket and go to the place where God chose for His name to reside there." That's talking about the Beis Hamigdash, the temple. In other words, you take the first fruit, the first ripe fruits. You put a little string on it so you know it says the first fruit. Then you collect them all, you bring them to the Beis Hamigdash in a basket. It continues and it says, "And you shall come to the Priest who shall be in those days and you shall say to him, 'I declare this day to the Lord our God that I have come to the land which our Lord swore unto our fathers to give us." He brings all those fruits to the Cohen. The verses continue and they say the declaration that he has to say when he gets there, and he has to thank Hashem.
The Rambam explains all the details of how this procession worked. Basically, the procession would get bigger and bigger. It says, "The pilgrims bearing their first fruits would be joined by the official representatives of the communities and they'd pass through. And together they entered Jerusalem so that the procession should not be a small one." We have a principle in the Torah, berov am hadras melech, the glory of the king is displayed in great assemblies. By the time that all the people came to Jerusalem it would be a huge gathering. He continues and he says, "The pilgrims would sleep in the streets of the city, and not in the houses. And in the morning the leader would cry out, 'Arise. Let us go up to Zion, to the Lord our God.' And the ox for the peace offering walked before them, its horns overlaid with gold. So, you had this ox at the beginning with golden horns, and a wreath of olive branches on its head, showing that the first fruits were of the seven species of the fruits of Eretz Yisroel. There has to be dafka, specifically, this seven species of Eretz Yisroel, those were the first fruits we were talking about.
I want to continue because I want to tell you how great this ceremony was, and that's really the point I want to bring out here. The flute would be played before them until they arrived close to Jerusalem. The people would chant during the whole journey. They would say, "I rejoice when I told to the House of God let us go," and they would walk not the whole day but two thirds of the day. When they arrived near Jerusalem they would send in messengers before them to inform them that they were coming. And then they would decorate all their first fruits and arrange them with the ripe ones on top. Then the princes and the leaders and treasurers would come out from Jerusalem to greet them in numbers proportionate to the numbers of the people that came so they would make a whole party, everybody was there. When they had entered the gates of Jerusalem they would begin to dance. 'Our feet are standing with your gates, oh Jerusalem." So you see, this was a major ordeal. The question is, why by this mitzvah do we make such a major ordeal, when other mitzvahs we don't? What's special about this mitzvah that it has to have such an impression on us that we have to make such a party for it?
Not only that, but there's a Bereishis Rabba that says, "Rav Huna said in the name of Rav Matna, the world was created in the merit of three things – in the merit of challah, which is separating the challah, the pieces of dough when you bake bread; in the merit of maser, by giving tithes, 10 percent of your money to tzedakah, charity; and the merit of bikkrim." This mitzvah of bikkurim it says, 'The world was created in the merit of the mitzvah of bikkurim. What's so special about it?  What's the reason that the Midrash says, "There is no beginning but bikkurim." As the verse says, "The first of the bikkurim are your field." This bikkurim is considered a beginning, reishis which is connecting up the word bereishis. It has to do with the beginning of the world." What's so special about this mitzvah that it's connected up with the creation of the world, and why do we make such a ceremony over it?
Rav Miller from Gateshead wants to explain this with a little introduction from Parshas Noach. After the Flood it says, "I will not continue to curse again the ground because of man, since the design of man's heart is evil from his youth. Nor will I again continue to smite every living being as I have done," in other words God promises that there's not going to be another Flood. But continuously all the days of the earth, seed time and harvest, cold and heat, summer and winter and day and night shall not cease. They shall continue." Rashi learns there, there's really six seasons. There's seed time and harvest, cold and heat, summer and winter. He goes into the details of the six seasons.
The Seforno wants to explain, what's with these seasons. How are the seasons created? This was actually the creation of the seasons. "Before that," he says, "Before the Flood there were no seasons." Why? The earth was perfectly straight in relationship to the sun. In other words, it did not change its angle. It was always straight. It was always perfect weather all year round. He explains it was always springtime, which meant that all the vegetables and the earth and all the people and everybody was super strong. The problem with that, the Seforno explains that since we were so physically strong and since everything was so vital, that it caused us to sin. So, God had to turn the world on an angle in order to make seasons in order to compensate for our physical strength to weaken us a little bit, so we could also be spiritual.
But there's another aspect to it, which is the seasons itself. How did the seasons correct the problem that happened before the flood? We know in Chazal that the generation of the Flood was involved in idol worship. The Rambam explains how idol worship worked. At first it started out that people wanted to give honor not only to God but they also wanted to give honor to God's creation, the sun, the moon, and the stars. But little by little, people started to worship the sun and the moon and the stars by themselves, disconnected from God as the forces of nature. What did God do? He tilted the earth in order to limit the forces of nature. In other words, now we have the seasons. The summer comes to the end, the winter comes to an end. The spring begins. The seasons would come and go. This is what took away idol worship. When people realized that the seasons were limited in their power when the sun was limited in its power, when the earth would only give forth vegetation at certain times of the year, they realized that God is underneath everything, that teva, nature, itself is just a covering for the forces of God. This is exactly why the mitzvah of bikkurim was given to the Jewish people, because the celebration is the celebration of God creating the creation. When we bring our first fruits we recognize that it's God who gave us those first fruits. It's the end of the season, we thank God that He gave us the harvest. He gave us the fruits. It's not teva, it's not nature. Nature is limited. This mitzvah brings us back to the source. This is why it's such an important mitzvah, and that's why in the merit of this mitzvah the world is created, that man should recognize God above and beyond nature.
I want to go a little bit deeper into this, to really hit the point home. There's a Midrash Tanhuma that says, "Moshe Rabbeinu, Moses gazed with ruach hakodesh, he saw with the Divine Spirit, that in the future the Beis Hamigdash would be destroyed, and that bikkurim would terminate." In other words, once we don't have the Beis Hamigdash there's no place to bring the fruits to. We don't have the mitzvah. Therefore, what did he do? He arose and instituted for Yisroel that they should pray three times a day. Moses said that Jews have to pray three times a day. Until this day, that's what we do. We pray in the morning, we pray in the afternoon and we pray in the evening, three times a day. What does it have to do with the bikkurim? Just because Moses saw that there wasn't going to be bikkurim, therefore we have to pray three times a day? I believe the connection is like this. We know that Rashi says, "Higadti hayom, you arrived here today." It says in the verses by the bikkurim, and Rashi says, "pa'am echas beshana velo shtei pa'amim," you have to do it one time and not two times. We only do this mitzvah one time a year. The point is that as Chazal tells us, "It has to be fresh. A new season – the end of an old season, beginning of something new," which is our set up for Rosh Hashana. This Parsha comes right before Rosh Hashana. Chazal tells us the Torah always has to be new in our eyes, fresh. Therefore it's fresh and new, we get the feeling of chiyus, life. Because what happens if we get caught in routine, everything the same day after day, year after year, so we lose our connection with the Creator. We don't feel the life force, we don't feel new. What's new? We don't understand that really God is creating the creation every moment there's a flow, flowing from the heavens to the earth that's creating it. It's constantly new. What does it have to do with praying three times a day? We have to pray at the beginning of each new zman, each new time. We pray at the beginning of the morning, and the morning ends. Then we have the afternoon, we pray in the afternoon. Then we have the evening. Each day is broken up into three parts. Each day is new. Each section of each day is new. By realizing that the morning is gone and the afternoon is beginning, it should wake us up. What we think is stable is not stable at all. What we think we call nature, God made nature stable but it's God who's doing it. He ends the morning and He starts the afternoon. He ends the afternoon and He starts the evening. God is behind the scenes here. The consistency that we feel is an illusion. And that's why if we don't have the mitzvah of bikkurim to wake us up, at least let us daven three times a day.
What did the Zohar say about bikkurim? He says, "They needed to show they could see that only because of Divine chessed do they merit all this and dwell in the land." In other words, when we bring the fruits to the Cohen it's to make us recognize that it's all chessed, it's all the kindness of God. He brought them into this land, provided them with all this goodness. This is why they must say these things to the Cohen. Why do you have to bring it to the Cohen? Because He represents the chessed of God. The Cohen represents the kindness of God. We have to recognize the kindness of God. Where is our stability? We have no stability. We have winter, spring, summer and fall – day and night, morning and afternoon. Everything is changing, we're in a constant flux. Everything is changing but we're not awake. We're not aware. The Ramban at the end of Shemos says, "The intention of all the mitzvos…" listen to this, "The intention of all the mitzvos is that we should believe in our God and concede to Him that He created us." That's the purpose of the mitzvos. It's kedai, worth it, to look over there at the end of Shemos at the Rambam. He explains that all the strange things that the Jews are doing are all simanim, they're all signs – tefillin, mezuzos, tzitzis, all these things are signs to wake us up, to realize that nothing is taken for granted. Not going according to nature, nature is a clipa, nature is the husk, it's a shell. Inside is the life force, which is God Himself. He is the one giving us life, and that's the purpose of the mitzvos – to machniah, to bend down, and say, "Thank you, God." That's why God built into the teva, into nature itself, He turned the earth on a slant to wake us up, to realize that what we call stability is really God. What does it have to do with Rosh Hashana? The Yom haDin, Day of Judgement is coming. Now is a time to realize that everything we have is dependent on God, to make him the melech. He's the King, He's the one who gives us everything. He's the one who gives us health and wealth and happiness and children, and everything that we have, it's God. That's what Rosh Hashana is all about, to make Hashem the melech, the King, and to realize that we are 100 percent dependent on him.
0:12:24.7
A Powerful Parable
The Chofetz Chaim has a parable like this. "My pockets did jingle," he says. "To whom can we be compared? To a certain drunken peasant who has a purse full of copper pennies in his pocket. He's got a lot of change in his pocket. He went into town, he was jingling his pennies that everybody should hear them. He's feeling rich like he's Rockerfeller. His clicking his pennies more loudly. He goes to a bar, he says, 'Give me a double whisky. Bring me the whole bottle over here.' When he finished the bottle he took out his pennies, his coins. He paid the bartender. 'I want another bottle.' He could still hear the pennies clinking and jingling in his pocket. He was sure he was rich like Rockerfeller. In his drunken state he never had any thoughts, even as a calculation of how much money he had. And he keeps having bottle after bottle, staggering out of the bar with only a few pennies in his purse. But even though there were a few, but they still made a noise in his pocket. He walked drunk down the streets, singing. People just laughed at him and thought that he was a fool." That was the moshul, that was the parable. What's the nimshal? He says, "In our 20s we have a purse full of copper pennies, we have a lot of life in front of us. The whole world is before us. We have the wealth and knowledge and ability, many years of life ahead of us. So what do we do? We snatch the pleasures of this world. We enjoy ourselves, we party. We're not thinking about how much time we're wasting. We're like the drunk guy who's drinking and not keeping any cheshbon, not keeping any accounting of how much money he has. Then when you turn 25, 30, next thing you know we're 35 years old. Half our life is over. We're going around dancing. More pleasures, enjoying ourselves. But we still feel the copper coins in our pocket jingling. We still have a lot of life left in us. So, we get older, 40, 50 even 60. Even though we only have a few coins in our pocket but they're still making noise. We clink them even louder. We don't do any cheshbon, and we don't make any accounting. We just drink ourselves into intoxication. We pay no attention that life is nearing the end." He says, "We're like fools. In the end, we're going to have the Heavenly court. We're going to have Rosh Hashana. We're going to have the judgment, we're going to have the din, There's going to be a cheshbon, an accounting of how we spent our lives."
0:14:45.7
Great Stories – Rav Eliyahu Dessler
I want to tell a story about Rav Eliyahu Dessler. He says, "Rav Grossbard wrote this eulogy about Rav Dessler. He says, "The power to convey the vision in Torah to others was not just some kind of technical ability, but an expression of his soul; the reflection of his ability to devote himself entirely to others. It was his desire to give to others that led him to clarify most of the difficult theological issues as he did." In other words, he was a tremendous thinker, but he claims that he was thinking – why? For Klal Yisroel, for the Jewish people, to give it over. That's why he was thinking so deeply. He says, "The Torah for him was the highest form of giving, an obligation that he could not escape." Rav Grossbard says, "Usually the world measures how great a person is, by how many people he can call up and they'll come to help him." But the Torah is exactly the opposite. Greatness is measuring how many people one serves. Rav Dessler lived with a sense of obligation to help others. The Chazon Ish said about Rav Dessler, "When sometimes you have a lowly generation they send a person who can influence the entire generation. Rav Dessler was a person like that." But he personally was amazed that people wanted to hear Torah from him. He insisted that any power he possessed was purely a function of the great men of who he'd been privileged to learn from. He said his power came from his Rabbonim, his Rebbes. In his mind he was nothing more than a sponge that absorbs from others and returns the water when squeezed. Nevertheless, he soon realized how much power he had to influence people. He said, "I now am more responsible. Someone who can affect his environment and responsible for the environment to the degree that he extends his influence – he felt more responsibility. He said he used to speak to everybody, all kinds of matters to all kinds of people – young women in Gateshead, simple people, baal teshuvas. At one point he even considered writing for Israeli high schools. He was pioneer in the use of stencils and mimeographs to distribute the shiurim to far flung talmidim. At one point Rav Dessler even thought to bring a tape recorder into Ponevezh and send the tapes back to him. Except the problem was that the technology was new, and people were scared of it. He says, "The idea of a tape recorder in the beis medrash however was still novel in those days," and he was advised not to do so. There's a footnote here that says like this. "Rav Chaim Freedlander, he was one of the people who advised not to do it. And to this day, he still feels bad about that." But the point is, you see his ability to influence others, and his love for the Jewish people.
0:17:14.8
Peace in Your Home
This week's Peace in Your Home is also from Rav Nachman Diament. He says, "We know in Ki Teitzie, unbelievable…" Last week's Parsha. It says, "When a man takes a new wife he shall not go out to the army. Nor shall he be subjugated to do anything associated with it. He shall remain free from his home for one year, and gladden his wife who he has taken." This is what the Torah says for a person who first gets married. There are four things: first of all, he shouldn't go into the army. Second of all, he shouldn't be even associated with the army – in other words, he shouldn't work in the background and help cook food for soldiers. Third of all, he shall remain free for one year. The Ibn Ezra says he shouldn't pay taxes. What does it have to do with this? His mind should be free in order that he should spend time with his wife. Those are all the things that he shouldn't do. What should he do? He has to gladden the wife who he has taken – he has to make his wife happy.  So, all of those three things took away all of his distractions. He has to be able to focus all of his resources on building his home. This sounds a little bit extreme, no? But the Chazon Ish says, "It's the woman's nature to derive pleasure from finding favor in her husband's eyes. And so, her eyes are turned towards him." What does she want in her private life?  One thing – to feel that her husband loves her and thinks about her, and remembers her, that she is in his thoughts all of the time.
So, most men, when you tell them that the wife needs attention, what do they do? They're going to buy her a present. They are going to buy her something on her birthday. But these presents don't work. Why? She wants to feel that he is thinking about her all day, every day. So, how is this possible? He tells a story like this. He had some friends who were not so religious. The couple were always fighting. What happened was, the mother-in-law did a trick. She says, "I'm going to invite my son to England. I'm going to set it up to make sure that his wife can't come," and that's exactly what she did. It happened to be Erev Rosh Hashana, and he's going to be gone for a month. He's going to be in England for a month. He's going to be gone all the Chagim, holidays. The kids have off from school and everything and he's leaving. This wife is livid. He tells the man, "You'd better be careful here, you know. Either she's going to miss you and be happy to see you, or she's going to be absolutely furious and it's going to break up your marriage." He says, when I read him this paragraph from the Chazon Ish, a woman very much wants to feel her husband is thinking about her. So, you have to make that your goal. He says, "Okay, how am I going to do that?" He says, "Oh, I know what I'm going to do. I'm going to buy her, I have this list of six different things, very expensive things. I'm going to buy her a fur coat, and diamonds, and all kinds of things." He says, "That's not going to work. What's going to happen? She's going to come back, she'll say, 'This whole month you didn't think about me? When did you think about me? Six times. Out of the whole month, that's all you thought about me?'" He says, "I know what you should do." He gives him advice and tells him what to do. "Listen, you should write a diary. I want you from the time you leave to write everything down that you did, and think that you're writing it for your wife."

He wrote the diary. Every day he wrote down, he's telling his wife what he did, and this and that, all the things that he did during the entire month. It happens to be that the Rav called this woman a couple of days before the husband was going to come home. He says, "Well, your husband's coming home, are you happy?" She says, "No. I am furious. I'm not going to say hello to him. I'm going to make sure he cuts of ties with his mother. I don't want him visiting her any more. I don't even want to say hello to him, I don't want to see him." So he convinced this wife, "Look here, give me the phone. Let me speak to her. He says, "Listen, when a man comes back from a trip at least give him 24 hours. I don't want you to get angry for 24 hours. Say hello to him. After 24 hours we'll see what happens. For the first 24 hours, don't get angry." She said, "Okay," and she promised. What happened is, the guy came home. The kids were there, and there were presents. He says, "Listen, I have something for mommy. I have something from England." What does he give her? He gives her all these papers. She looks at this, "What are these papers? This is what you brought me?" He says, "Yeah, I want you to read them." What happened is, she goes in one room and he takes the kids in the other room. He gives the kids their presents. She comes out crying. She's all happy. She forgot about that she's mad at his mother. She forgot all of her anger. Later on, she called the Rav and she said, "Do you know what happened to my husband? It's a total transformation. It's something I never expected since the day we married. All month long he thought about me." Because he was writing this diary to his wife, which is true, he was thinking about her all month that it's very important to call you wife in the middle of the day, ask her how she's doing. She says, "Did you call for anything special?" "No, just because I missed you." She feels you are thinking about her one day. She'll think you'll be thinking about her the next day. If you constantly show your wife how much you're thinking about her, you're going to have peace in your home.
Okay, that's it for this week's podcast. I hope you enjoyed it. Please share it with your friends and leave comments.